Wastewater Treatment
Water is the most important resource we have.

We are committed to delivering wasterwater treatment systems that protect the environment while minimizing the cost to our clients. 
Whether you require preprocess treatment and conditioning, conventional treatment for sanitary sewer discharge, or prefer to recycle/reuse water within your facility, Ace can provide the expertise you need including:
Engineering/Design
Environmental Planning
Project Management
Chemical Analysis
Operations Management/Supply

Compact Delpark Wastewater Management System
ACE Manufacturing designs and builds the Compact Delpark Waste Water Manangement system.
This is an advanced system designed for treating various types of waste water with minimal capital and operational costs. The filter bed approach minimizes plant space requirements and is easy to install and operate.
This is a quality stainless steel system using the famous Delpark Filter Bed (trade mark item of ACE Manufacturing, see "Delpark Filters" page for more information) for liquids/solids separation.
Conventional Water Treatments
Ace Manufacturing provides solutions for your facility and your budget.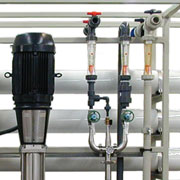 With a thorough understanding of your chemical processes, we can provide a customizedand seamlessly integrated system that is easy to maintain on a daily basis.
Each component of every system is carefully selected to provide years of reliability and effluent compliance.
Ion Exchange
Reverse Osmosis
Nano and Ultrafiltration
Distillation Units
Vacuum Evaporation
Clarification
Water Recovery
Growing concern for environmental protection has put pressure on industrial water users to reuse water within their facilities. Ace Manufacturing can provide your plant with the technologies to improve operations and water reuse, which can radically reduce costs while lessening the impact on our environment.